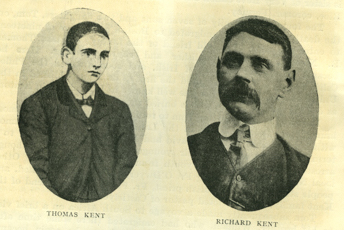 We are sorry, this event is sold out!
 Collins Barracks, The Palatine Room
Introduced by John Murray, RTÉ Presenter
The "Cork comedy" and the Rising that Wasn't: Easter 1916 in Rebel Cork.
Despite Rebel Cork's close association with the Irish War of Independence, separatists there failed to join the 1916 Rising. This talk will explain the circumstances around Cork's stillborn rebellion, and illuminate why the Dublin rising did not become a national one. It will also show how this embarrassment later vaulted Cork republicans into the vanguard of the struggle for independence.
John Borgonovo, Lecturer in history at University College Cork
Thomas Kent
Thomas Kent was executed after a gun battle with members of the Royal Irish Constabulary (RIC) who came to arrest him and his brothers on May 2, 1916, during the aftermath of the Easter Rising. During the ensuing fight, head constable William Rowe was killed and Kent's brother Richard later died of his wounds. He was executed by firing squad on May 9, 1916, in the Military Detention Barracks, Cork, and buried in an unmarked grave in its grounds.  His State funeral took place in Cork, 99 years after his execution.
Brian Casey, School of History, UCD
Photograph courtesy of the National Museum of Ireland

---