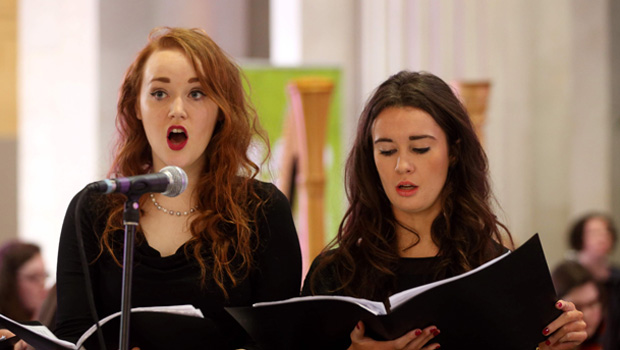 We are sorry, this event is sold out!
DIT, Courtyard
Special performance of a new Requiem for 1916 in Irish, composed by Odhrán Ó Casaide, performed by staff, students and alumni of the DIT Conservatory of Music and Drama.
This powerful piece is inspired by the original pioneering work of Seán O Riada. The Requiem sets out to explore the beauty of sean nós voice, together with chamber choir and orchestra, classical solo voices, as well as traditional and early musical instruments. The blend of Irish and classical styles reflects the two great musical traditions in Ireland at the time of the Easter Rising in 1916.
The high point of the Requiem is the setting of Patrick Pearse's poem "Fornocht de Chonac Thú" where he turns his back on the beauty of this world and sets about the mission which he predicts will lead to his demise. This poem was composed in 1912, and is very similar in style to that of the great 18th Century poets. This is followed by "Caoine na bPáistí" – which is a lament specially written to commemorate all of the children who died in the Rising.

---