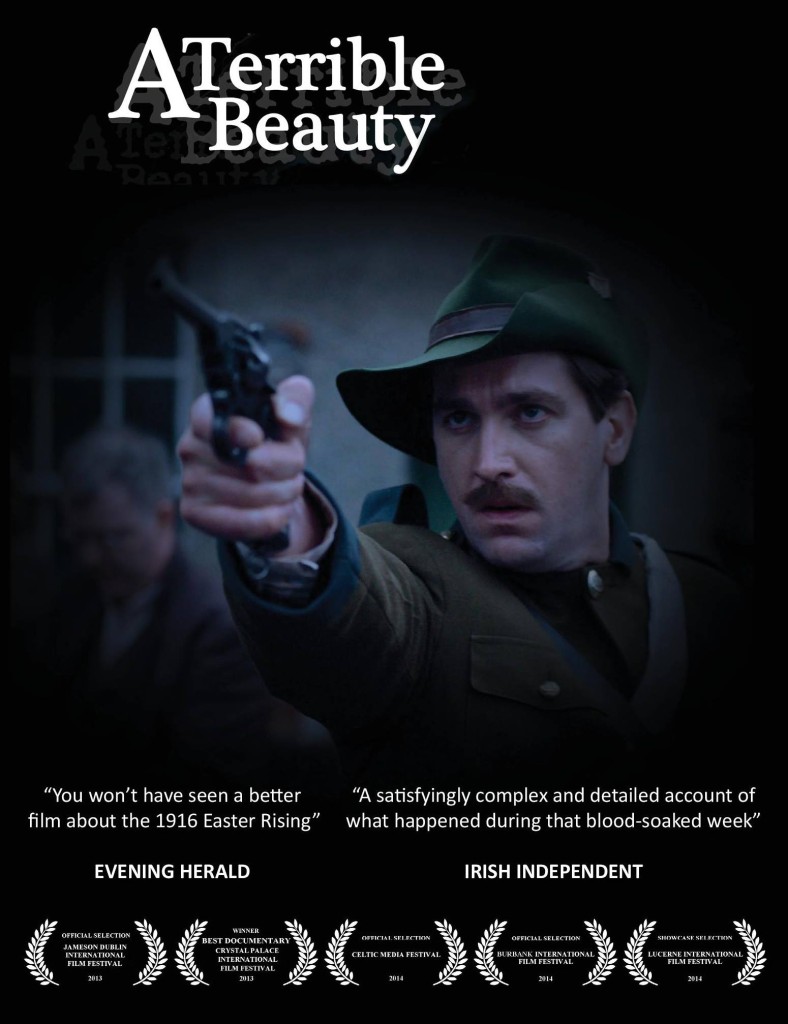 Lighthouse Cinema, Screen 3
Introduced by Ailbhe Ó Monacháin
Club Scannán Sailearna are delighted to present Áille an Uafáis / A Terrible Beauty, hosted by Ailbhe Ó Monacháin (Nuacht RTÉ/TG4) at Light House Cinema Monday 28th March at 12:30.
This award winning feature docu-drama directed by Keith Farrell tells a story which does not sit comfortably with the traditional lionised imagery of what transpired during the Easter Rising. First-hand accounts of a British soldier, Irish Volunteer and civilian are interwoven to give a fresh perspective on the events of Easter 1916. By mixing archive footage with dramatic reconstructions and first-hand accounts it takes the viewer on a journey to the very heart of the conflict, giving them an up close and personal view of the often brutal and bloody fight which affected the lives of the men and women caught up in the maelstrom. More information go to www.1916film.com
This is a preliminary screening for Féile Scannán na Réabhlóide 2016, a weekend of revolutionary films from around the globe which will take place in in the Seanscoil Theatre, Indreabhán, Co. Galway from May 27-29 2016.
Tá áthas ar Chlub Scannán SailearnaÁille an Uafáis / A Terrible Beauty a thaispeáint le Ailbhe Ó Monacháin (Nuacht RTÉ/TG4) mar fear an tí.
Dráma faisnéise atá in Áille an Uafáis atá stiúrtha ag Keith Farrell agus suite I mBaile Átha Cliath le linn Éirí Amach na Cásca 1916. Is cuntas é seo nach bhfuil ar aon dul leis na laochscéalta a tháinig chun cinn i ndiaidh an Éirí Amach. Cuireann triúr – Saighdiúir Sasanach, Óglach Éireannach agus Sibhialtach – a bhí i láthair le linn na heachtra, a leaganacha féin den scéal inár láthair agus tugtar léargas nua dúinn ar an méid a tharla.
Tá an taispeántas seo mar réamhbhlaiseadh ar Fhéile Scannán na Réabhlóide 2016, trí lá scannán reábhóideacha ó ar fud na cruinne a bheidh á thaispeáint in Amharclann na Seanscoile, Indreabhán, Co na Gaillimhe ar an 27-29 Bealtaine 2016.
Photograph courtesy of Áille an Uafáis / A Terrible Beauty…

---